How many versions of the 2021 Toyota Supra will there be?
Toyota is really working hard to make sure that the second production year of the Toyota GR Supra is something that will be remembered. In the last several months, the automaker has already announced that it will be introducing a new entry-level trim that will also feature an appropriate new power plant. So, how many versions of the 2021 Toyota Supra will there be? Unless something changes in the next few weeks, Alamo Toyota product experts have counted four, the 2.0, 3.0, 3.0 Premium trim grades as well as the A91 Edition. Because this is such an exciting development, we thought it would be worthwhile to take a look at what these will offer.  
READ MORE: Is the Toyota Supra available at Alamo Toyota? 
Engine Specifications
The new Supra 2.0 trim will have the newly introduced twin-scroll turbocharged 2.0-liter, four-cylinder engine attached to the familiar eight-speed automatic transmission. It will make 255 horsepower and 295 pound-feet of torque. The rest of the 2021 Supra lineup will utilize the twin-scroll turbocharged 3.0-liter, inline six-cylinder engine and the same eight-speed automatic. These versions will produce 382 horsepower and 368 pound-feet of torque.
Toyota hasn't revealed the fuel economy scores for the 2.0-liter engine, but the 3.0-liter power plant will produce 22 miles per gallon in the city and 30 miles per gallon on the highway.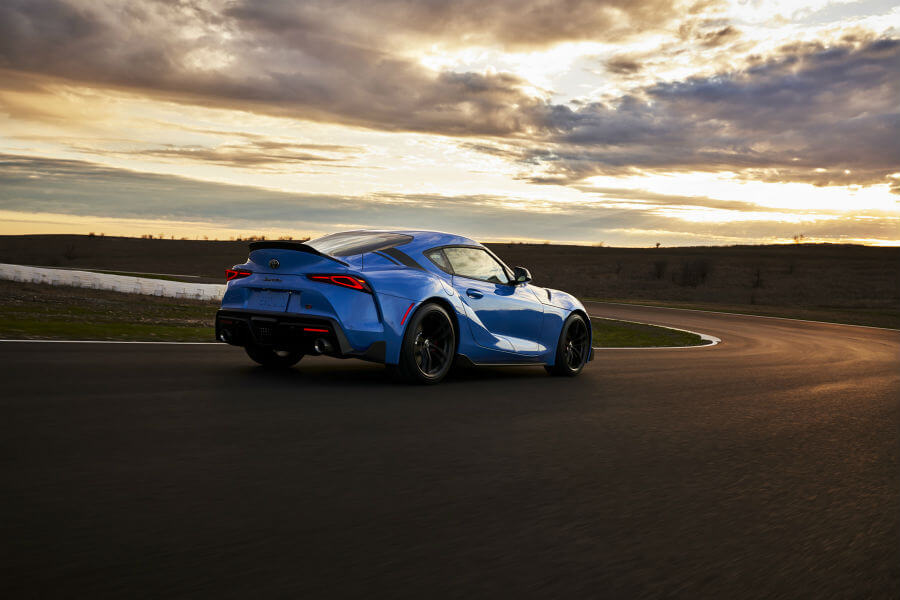 What is the 2021 Supra A91 Edition?
The 2021 Toyota Supra is already a very special vehicle. However, only 1,000 A91 Edition versions of the Toyota sports coupe will be built. The lucky few customers who are able to get their hands on it will have an exclusive carbon fiber rear wing and a matching black satin double hash racing decal. Only the A91 Edition will feature automatically folding carbon fiber side-view mirrors.
Additionally, all 2021 Supra will use the same Black Alcantara seats, but the A91 Edition variant will stand out by having blue contrast stitching on its seats. All 2021 Supra will have a smartphone-compatible infotainment system offering access to the Apple CarPlay® suite of applications.
Customers can start the pre-ordering process for any version of the 2021 Toyota Supra today by scheduling an appointment with an Alamo Toyota product expert.
Related Posts
Toyota introduces new Supra model to its lineup for 2021
Introducing the Toyota Supra