Is the 2021 Toyota Sienna getting redesigned?
The Toyota Sienna is one of the premier models in the very competitive minivan segment of the global automotive industry. For years the Sienna has stood out from its peers by offering plenty of performance, interior cabin space and available all-wheel-drive, a rare feature in the class. Toyota is getting ready to launch a new generation of the vehicle for the upcoming model year. So, is the 2021 Toyota Sienna getting redesigned? Yes, it is. Toyota unveiled the new Sienna during a presentation at its facility in Plano, Texas. In addition to a new top-of-the-line trim grade, the 2021 Sienna will also be a hybrid vehicle platform. Let's take a look at some early details Toyota has released. 
READ MORE: Toyota marks the 20th anniversary of the Prius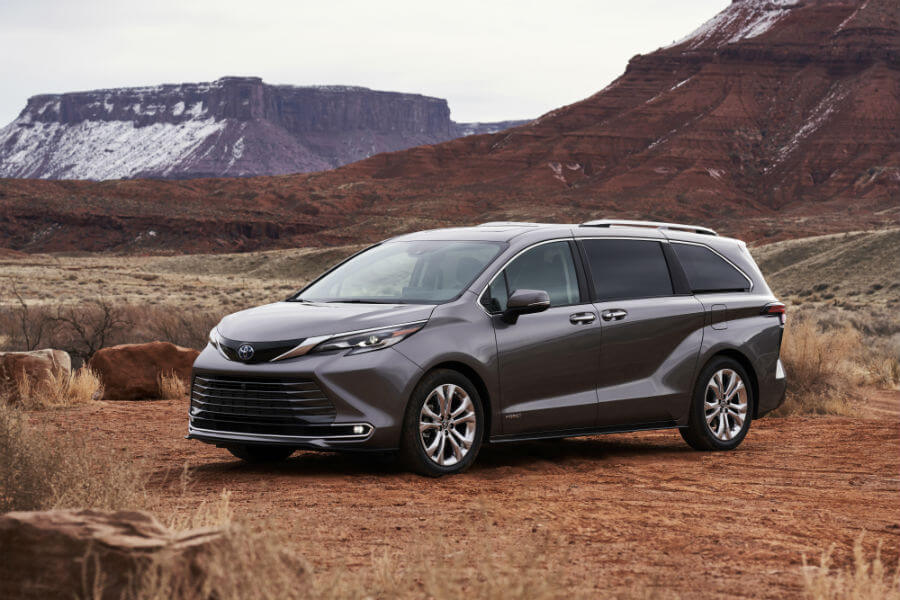 Performance Specs
Very few automakers adopted hybrid technology as early and as fully as Toyota. The 2021 Sienna will be powered by a 2.5-liter, four-cylinder engine that will be attached to the Toyota Hybrid System II. It will deliver a gas/electric system net of 243 horsepower while also being able to achieve 33 miles per gallon combined.
While this isn't as much power as the Sienna produced in the past, the 2021 model will still be able to tow up to 3,500 pounds. All-wheel-drive will also continue to be an available option. Like other new Toyota hybrid platforms, the 2021 Sienna also features an EV mode that will allow for short, low-speed trips to happen that won't use any gasoline.
Family-Friendly Features
Families love the Toyota Sienna. It is not uncommon for Alamo Toyota customers to trade-in their Sienna for another one. When the 2021 model arrives to our showroom later this year, some of the upper trim grades will feature an onboard refrigerator for snacks as well as an onboard vacuum to clean up those snacks that will inevitably be spilled. Toyota has also introduced hands-free operation for the sliding doors and rear liftgate.
A smartphone-compatible infotainment system with access to Apple CarPlay® and Android Auto™ will continue to be standard equipment. Owners that have an Amazon Alexa digital home assistant will be able to integrate that device into their new Sienna ownership experience.
You can start the pre-ordering process for the 2021 Toyota Sienna today when you make an appointment with an Alamo Toyota product expert today.
Related Posts
What features does the 2020 Toyota Sienna XLE Premium have?
What color options are available on the 2020 Sienna?