2021 Toyota GR Supra Engine Lineup
In the time the Toyota GR Supra has been available at dealerships, it has vastly changed the way people view the automaker. The 2021 Toyota GR Supra engine lineup is getting an overhaul for the coming model year. Toyota broke this news a few weeks ago prior to the start of the Chicago Auto Show where the manufacturer has earned a reputation for launching new models. Alamo Toyota customers will be able to start their Supra journey with an all-new entry-level trim grade that will feature a new engine and an overall lower gross weight. Additionally, Toyota is also boosting the top-end output of the previously available power plant. Let's take a look at what buyers can expect to see when the 2021 Toyota GR Supra is delivered to the Alamo Toyota showroom.
READ MORE: Reserve your Toyota GR Supra today!
Supra 2.0 Performance Specs
The new entry-level version of the 2020 Toyota GR Supra will have a turbocharged, 2.0-liter, inline four-cylinder engine under the hood that will use the same eight-speed automatic transmission. Owners of the 2020 Surpa 2.0 model will be able to expect the vehicle to produce 255 horsepower and 295 pound-feet of torque. Current estimates from the manufacturer say the new Supra 2.0 will be able to accelerate from zero-to-60 mph in about five seconds. It will still have an electronically limited 155 mph top speed like the original version.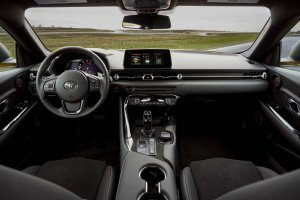 Toyota has shaved more than 200 pounds off of the 2021 Supra 2.0. Engineers are employing smaller and lighter brake rotors, a simplified suspension system as well as other small changes to achieve the weight savings.
2021 Toyota 3.0 Horsepower Upgrades
Alamo Toyota customers can still get their hands on the Supra 3.0 model when the 2021 class starts to arrive. It will still have the turbocharged, 3.0-liter, inline six-cylinder engine under the hood mated to the same eight-speed automatic transmission. However, the 2021 GR Supra 3.0 will now produce up to 382 horsepower, up from 335 in 2020, and 368 pound-feet of torque which is also an upgrade. The increase in performance output will now have a zero-to-60 mph time of 3.9 seconds, a noticeable decrease of .2 seconds.
You can start the pre-ordering process for the 2021 Toyota GR Supra before it arrives by making an appointment with an Alamo Toyota product expert today.