2020 Toyota Corolla Hybrid in San Antonio, TX
2020 Toyota Corolla Hybrid in San Antonio, TX
The Toyota Corolla holds the honor of the being the best-selling vehicle in the history of the global automotive industry. When the 2020 Toyota Corolla Hybrid in San Antonio, TX arrived at the Alamo Toyota showroom, everyone at the dealership instantly knew this was going to be the beginning of a new era for the compact sedan. The automaker has added its innovative hybrid technology to the inherently efficient Corolla that will give it the kind of fuel economy scores that have previously only been available with the Prius. Additionally, the 2020 Corolla Hybrid picks up a few connectivity options that will change the way people view the model. Schedule a test drive today by calling, 210-318-4060.
---
Connectivity Technology in the 2020 Corolla Hybrid
Too many manufacturers continue to skip their compact sedans when it comes to offering owners the latest technology. Toyota has broken this trend with the 2020 Corolla Hybrid.
Naturally, all available 2020 Corolla Hybrid trims will come with a comprehensive list of standard technology features like USB ports for streaming media and device charging. The native infotainment system will also feature hands-free phone capability and voice recognition. All of those features are both outstanding and important, but Toyota wasn't done.
Future owners of the 2020 Toyota Corolla Hybrid will be able to use the Apple CarPlay® suite of applications regardless of which of the sedan's trim grades they take home. The 2020 Corolla Hybrid will make a high-speed 4G LTE Wi-Fi hotspot available across the board.
The signal will be able to support several Wi-Fi-enabled devices at once. Additionally, since the Wi-Fi connection is provided by Verizon Wireless, some people might be able to combine the mobile data bucket with their existing phone plan. Contact Verizon for more information.
---
Performance Specs
All 2020 Toyota Corolla Hybrid models available at the Alamo Toyota showroom will be available with a naturally aspirated 1.8-liter, four-cylinder engine under the hood. It will be attached to a continuously variable transmission, producing a net output of 121 horsepower and 105 pound-feet of torque.
Fuel Economy Scores
Naturally, the main reason people are going to choose to take the 2020 Toyota Corolla Hybrid home is its incredible fuel economy. The 2020 Corolla Hybrid will be able to post 53 miles per gallon in the city and 52 miles per gallon on the highway, according to the Environmental Protection Agency.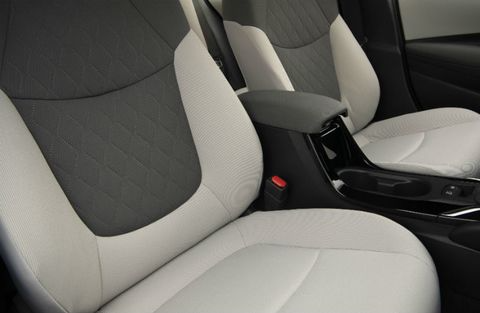 INTERESTED IN THIS MODEL?