2020 Toyota Tundra Engine Specs and Towing Capacity
The 2020 Toyota Tundra is a powerful truck that can take who and what you want with you. The Toyota Tundra is designed with high performing performance equipment to help you get the job done right. We want to tell you more about the 2020 Toyota Tundra engine specs and towing capacity to help you find out if this vehicle is right for you. 
---
READ MORE: 2019 Toyota Tundra Paint Colors
---
Performance Equipment
The 2020 Toyota Tundra is designed for power, and that means that it needs a powerful engine. The Toyota Tundra comes standard with a 5.7-liter i-FORCE V8 engine that delivers 381 horsepower and 401 pound-feet of torque. This truck can help you accelerate onto the highway and take on the challenges of the great outdoors. This truck has the power to overcome obstacles and take on the harshest terrain and driving conditions.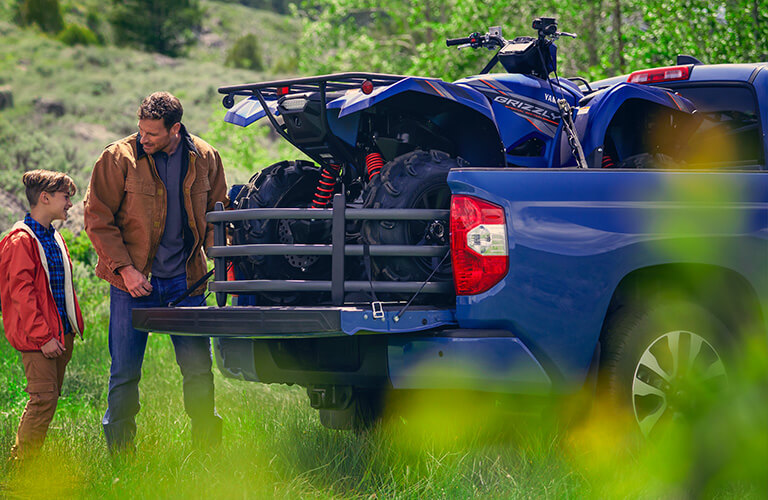 Hauling Capability
The 2020 Toyota Tundra can take a lot inside its truck bed and haul behind its tailgate. The Toyota Tundra has a maximum payload capacity of 1660 pounds to help you carry extra weight on your travels. The Toyota Tundra can tow up to 10,100 pounds for a substantial hauling capacity. These capacities can help you take what you need with you on the road. The Toyota Tundra always finds a way to help drivers when they need it.
---
READ MORE: What Are the Cabin & Cargo Bed Size Options for the 2019 Toyota Tundra?
---
The 2020 Toyota Tundra engine specs and towing capacity are just some of the impressive features inside this vehicle. There are other specs to learn about. You can learn more about our available Toyota Tundra models by visiting our online inventory and schedule a test drive with us at Alamo Toyota on our website. We hope we helped you find everything you were looking for and we hope to see you soon.
Related Posts
What are the Engine Specs for the 2021 Toyota Tundra?
Toyota trucks are cool both figuratively and literally